Held every 2 years, the NADN Advanced Training Retreat has become established as the most anticipated event on the calendar for experienced mediators around the U.S. Over 3 days at a luxury venue, the Retreat brings together renowned industry leaders and the finest ADR trainers in the world to share their knowledge and experience.
Our inaugural Members Retreat was held in Orlando in August 2010. Around 60 members attended - largely charter members from FL, GA, TN, TX and NC!
Our training across 2 days came from the faculty of the American Institute of Mediation and included Lee Jay Berman, Doug Noll, Erica Ariel Fox (Harvard PON) and the greatly missed Mel Rubin (Miami University).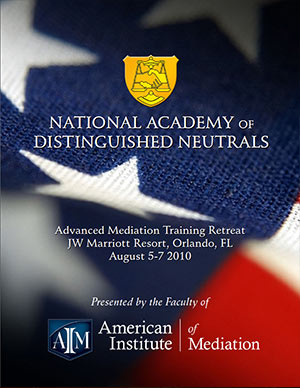 Photos from our Orlando Retreat
Attendee Testimonials
"Quite simply the single best ADR seminar I have attended. Period."
John S. Freud,Mediation Solutions Inc, Miami, FL
"Congratulations - I am writing to express my sincerest appreciation for a truly outstanding and extremely valuable conference. I can't wait to attend the encore next year!"
Brian Spector, Esq. Miami, FL
"What a worthwhile, cutting-edge program. Thank you to the NADN and your speakers for a Don't Miss It event filled with new ideas, tools and strategies for us to move to the next level."
Stephen G. Fischer, W. Palm Beach, FL
"The NADN Advanced Training Seminar provided a refreshing look at new techniques and shared experiences from nationally acclaimed mediators respected as preeminent. With a unique blending of borrowed principles from neuro-linguistics and martial arts, it doesn't get any more 'high level' than this!"
Murray B. Silverstein, Tampa, FL
"The NADN Seminar was outstanding in every respect. Having advanced instruction coupled with learning from our peers provided a unique opportunity. Thanks for your efforts in organizing this, it really paid off!"
David M. Zacks, Atlanta, GA
"Training beyond the initial Certification type course is really not so easy to find. This one was perfect. Highly recommended to experienced mediators, the AIM faculty members were excellent."
Reagan H. Weaver, Raleigh, NC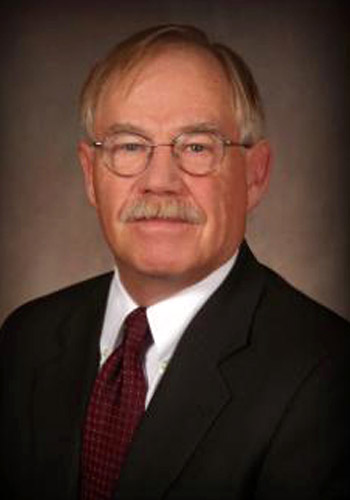 "This was an eye-opening seminar for experienced mediators. I have a new set of tools to solve seemingly intractable problems and settle the most difficult cases! The faculty members were superb."
Kenneth M. Byrum, Bakersfield, CA
"I certainly recommend the NADN Advanced Training Seminar for upper level training by nationally known speakers and presenters. Strongly researched, experience proven techniques for overcoming collateral obstacles to fair and timely settlements. A great 2 days of nugget-laden advice and advanced settlement techniques coupled with the opportunity to trade practical tips and pointers with leading mediators."
Hon. Sidney S. Eagles, Raleigh, NC
"I thought the seminar was truly outstanding. Lee Jay, Doug, Mel, and Erica were all entertaining, interesting people in themselves, hugely enlightening, and down to earth and practical, all at the same time. And each of their presentations gave me lots of new things to think about regarding other people and myself that I hadn�t considered before in my 35-plus years of practice as a lawyer and 13-plus years as a mediator. I was so mind-boggled by the end that I drove the 2-1/2 hours home in silence while my inner voices jumped from one part of the seminar to another, disagreeing about or debating what they had each heard, felt or seen. I was totally exhausted by the time I got home. Sign me up for next year!"
Terrance E. Schmidt, Jacksonville, FL
"The Advanced Mediation Training Seminar was the best program for experienced mediators that I have ever taken in my 21 years as a mediator. The outstanding trainers presented all-new techniques never revealed before in any other program I've attended. The new skills I learned will pay huge dividends in my future work. Thank you to the Academy for this great learning experience!."
Cary Singletary, Tampa, FL
"The presentations were both informative and entertaining. The techniques discussed provide the experienced mediator with an improved ability to resolve both routine and difficult cases."
David Luff, Orlando, FL
"The 2 day NADN seminar was very worthwhile. Lee Jay Berman, Doug Noll, Mel Rubin and Erica Ariel Fox were all dynamic speakers who held your interest throughout the two days. Each was extremely knowledgeable in their respective fields. I have mediated cases since 2003; my background is as a civil trial lawyer primarily in the construction field. I feel I can put much of the information received in this seminar into immediate use to improve my techniques as a mediator."
William G. Christopher, Sarasota, FL
"Please allow me to thank you for the excellent NADN event held in Orlando. The Academy surpassed my expectations in content, training, location and amenities. I would certainly recommend this training event to anyone interested in furthering their skills, and I look forward to attending the 2011 event when and where it is scheduled."
Michael J. Schofield, Pensacola, FL
"The 2010 NADN Conference was very interesting and informative. I enjoyed the experience, particularly with regard to the practical application of the concepts presented."
Gary S. Salzman, Orlando, FL
"The inaugural NADN conference was very well done! The instruction was of the highest quality and properly geared to the audience of experienced mediators. I will certainly plan on attending next year."
Justice Kenneth B. Bell, Pensacola, FL