Held every 2 years, the NADN Advanced Training Retreat has become the most anticipated professional and social event on the calendar for experienced mediators across America. Over 3 days, the Retreat brings together renowned thought-leaders and some of the finest ADR trainers in the world to share their knowledge and experience with Academy Members. Spouses & family guests are very welcome to attend social events.
Our 2019 Retreat was held in Seattle at the luxurious Four Seasons Hotel, Sep 18-21. Over 130 Academy members attended, travelling in from 30 states around the nation.
Our esteemed trainers for 2019 included:
Lee Jay Berman (American Institute of Mediation)
Sheila Heen (Harvard Program on Negotiation)
Doug Noll, Fresno, CA
Nina Meierding (Negotiation & Mediation Training Services)
John Salmon (Salmon & Dulberg, Miami)
Please click the brochure image to download full agenda and course descriptions.
All attendees of Retreats are immediately recognized as Diplomate Members of the Academy.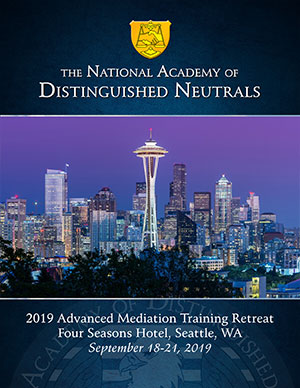 Photos from our 2019 Seattle Retreat
2019 Attendee Testimonials
"This is the single best continuing education course I have ever attended. Great speakers, great content!"
Hon. Mark Aceto, Tempe, AZ
"Another excellent retreat. Top notch mediators from across the country were pleased to improve their "skill sets" with the guidance of world class speakers. A+ in all respects!"
Tracy Shaw, Nashville, TN
"The NADN retreat I just attended was the best ever on ADR. The instructors were genuine thought leaders in the field of dispute resolution and communicated thought provoking and practical insights. 'De-escalate' and 'Thanks for the Feedback' will now be required reading for all [my own firms'] neutrals and all will be strongly encouraged to attend future NADN retreats!"
John Miles, Atlanta, GA
"By far the most useful training event I've ever attended, for what I do."
Hon. Larry Flesichman, Tucson, AZ
"Once again, NADN has put on "The Greatest Show On Earth"! Substance, materials, humor, camaraderie - they were all here!"
Hon. Deanne Wilson, Mendham, NJ
"NADN promised to deliver a firehose of informative material at their recent retreat and they did not disappoint in the amount of meaningful information conveyed in this 3 day seminar. Every single speaker had important and compelling information that I will now apply in my daily mediation practice. It was no coincidence that the program was at the Four Seasons Hotel. Darren Lee and his staff thought of every detail and hosted an impeccable and seamless conference all the way from the check-in at the hotel, and the pens, and notepaper provided to attendees to the complimentary books written by each presenter. I will certainly attend again!"
Steven Mehta, Los Angeles, CA
"I was thrilled to attend the 2019 Seattle NADN Retreat! This was my inaugural experience. What a first class event, with incredible and insightful speakers and topics. I left to fly back to Florida after our three days shared together rejuvenated, re-energized and with a great deal of new and valuable perspectives to carry forward in my own mediation work. Congratulations to you and all your speakers - and here's looking forward to our next retreat in 2021!"
Bruce Alexander, W. Palm Beach, FL
"Over the past 30 years, I've attended, planned and lectured dozens of mediator conferences. 2 words to describe the NADN Retreat: 'Fire Hose'! So much valuable information to absorb and there's always something I can use the next Monday morning!"
John Salmon, Miami, FL
"The Seattle retreat was hands down the most informative and interactive seminar I've attended in my 32 years of practice. The faculty was phenomenal; after 4,500 mediations I thought there can't be that much more for me to learn, but Heidi, Nina, Doug and John proved me wrong! It was also my first visit to Seattle and my wife and I loved it. Thanks to you and your staff for a job very well done!"
Michael Burnett, Jacksonville, FL
"This was my first NADN Retreat - in a few words, it was life changing. The presenters introduced me to ideas and people awareness that I had never before been exposed to, or considered. My future interaction with my colleagues, clients and family will be ever changed!"
Dale Peddicord, Des Moines, IA
"Great cutting-edge presentations from great authors and thought leaders..."
Ken Kendrick, Atlanta, GA
"Excellent course, with the top speakers in the industry gave us proven, useful informative presentations. Thank you NADN for a great conference!"
Jack Townsend, Tampa, FL
"Top notch presenters on cutting-edge topics, perfectly calibrated for a sophisticated, experienced audience."
Hon. Robbie Barr, Denver, CO
"...I've been attending CLE's and programs for more than 40 years either as an attorney of judge, and this was amongst the very best. I look forward to a long affiliation with NADN and am proud to be a member of the Academy."
Hon. Robert Lunn, New York, NY
"Quite simply the best of the best for advanced mediation training..."
Dennis Lind, Missoula, MT
"All experienced mediators should attend this event."
Jock Schulte, Missoula, MI
"Excellent, unique and very helpful presentations by the best in our profession!"
William Wagner, Missoula, MT
"This course provided skilled mediators with many more tools for effective mediation; through thought-provoking concepts with great practical application. Darren, Rose-Anne and Kathy, as well as the presenters, put together a well-planned program in a welcoming atmosphere!"
Leonard Levy, Los Angeles, CA
"Overall, the agenda was quite brilliant. Sign me up for the next one today!"
Hon. Charles Kahn, Milwaukee, WI
"My first NADN Retreat - an outstanding curriculum, staff, faculty and attendees. As a retired trial court judge of 24 years in New Jersey, I learned a GREAT deal about mediation, it's dynamics and new techniques. Cannot wait for your next conference!"
Hon. Raymond Batten, Haddonfield, NJ
"Advanced mediation courses that are truly advanced, and national in scope, are far and few between. I would never have learned half as much as I picked up at [the Seattle] meeting as I would from one of my local or statewide cle's. I will be back for the next one!"
Ron Wiesenthal, St. Louis, MO
"The program combines a variety of first-class presenters with a very experienced and diverse group of participants, which fosters substantive, topical informal conversations throughout the program about mediation and ways [for us] make it even more effective."
Harold Kurland, Rochester, NY
"I once again give my thanks to you and your team for the best continuing education program I have ever attended in my 42 years as a lawyer. Your program has always been the best of all the mediation programs, but you hit new heights in 2019, and for that I am most grateful."
Peter Grilli, Tampa, FL
"Darren, thank you for the next level training in Seattle! Lovely venue, exquisite presenters, science supporting art. This was THE training event I was looking for!"
Ellen Adams, Columbia, SC
"This continues to be THE premier educational opportunity for experienced mediators. Congratulations to all at NADN."
Robin Doyle, Naples, FL
"The Seattle Retreat was outstanding! The programs provided were thought-provoking and advanced, and provided many practical "Monday morning" tips that I could incorporate into my mediation practice immediately. The format was well-organized, and the time in each session simply flew by."
Amy Van Horne, Omaha, NE
"As a first time attendee, I especially appreciated the practical tactics and learning resources that were provided. I feel even more equipped to navigate difficult conversations inside and outside of the mediation conference room!"
Gino Brogdon, Jr. Atlanta, GA
"I highly recommend attending this Conference the next time it is held. The speakers were dynamic and provided a wealth of insights that significantly add to any mediator's toolbox no matter how long they have been practicing!"
Alan Saler, Valley Village, CA
"This year's NADN Conference was truly one of the best ADR conferences I have ever attended. The quality of the speakers and the real world application of the topics they presented will help every practitioner."
Keith Kubik, Seattle, WA
"I highly recommend attending the NADN training retreats. The Seattle program was one of the best mediation trainings I have ever attended. The faculty were stellar – they were excellent communicators and each delivered very interactive and meaningful sessions. I left with valuable insights and hands-on tips and take-aways that I could immediately adopt into my mediation practice. It was such a pleasure being a student again!"
Theo Cheng, Princeton Junction, NJ
"The 2019 Seattle Retreat was my first NADN Retreat and by far one of the best programs I have ever attended. I especially appreciated the highly qualified and compelling speakers who were given the time to present their subjects in depth. I look forward to the next Retreat and regret only that I have to wait until 2021!"
David Lombardi, Boise, ID
"The NADN retreat was without question the most important training I have attended as a mediator. The speakers were extraordinary, and I walked away with ideas and tools I immediately could use in my mediation practice. I highly recommend this retreat to all mediators looking for *advanced* training relevant to what we actually do each day."
Gregory Clayton, Camden, ME